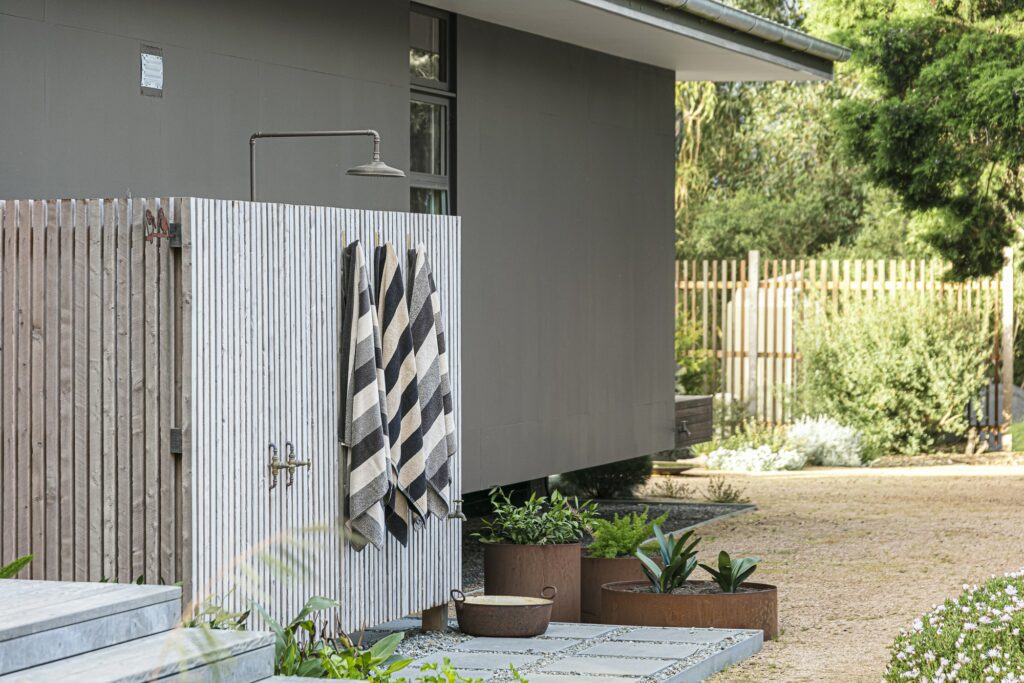 Buying a beach house in Panama City Beach is a dream come true, whether it is for your own vacation home, a primary residence, or an income property.
As you shop for or design property in Panama City Beach, consider these 7 things we think every beach house should have.
1. Lots of Windows
Something we think every beach house should have is plenty of windows. Make the most of living or vacationing in a place with so much sunshine and beach views! If adding windows is out of the budget or structurally impossible, consider replacing existing windows with picture windows or replacing doors with sliding glass door or a door with a window in it.
Remember: it's important to install impact-resistant windows whenever replacing them in your Panama City Beach house.
2. Plenty of Sunscreen, Towels, and Reusable Water Bottles
Whether you offer a short-term rental or live in the beach house yourself, there are a few essentials every beach house should have on hand.
Sunscreen: keep a few on hand, including various kinds if you have people in the house who will need baby sunscreen, sweat-resistant sunscreen, or sunscreen for sensitive skin.
Reusable water bottles: one of the things everyone should bring to the beach is a water bottle. Have extra reusable bottles on hand just in case.
Towels: make sure you have plenty of beach towels and bath towels on hand. Nobody wants to wait for a load of towels to dry to get to the pool or beach, and remember there will be extra showering with all that fun in the sun.
Keeping extras of these items in the beach house means less time buying something you forgot to pack or waiting for laundry to be done.
3. Easy-Care Flooring
Your lifestyle at the beach will likely include daily trips to the beach, even if its just for a walk to to enjoy the sunrise or sunset. Even if you don't go to the beach, living near the ocean means saltwater and sand are everywhere. 
Easy-care, durable flooring with waterproofing will give you peace of mind and allow you to enjoy your beach lifestyle without worrying about wear and tear on your floors. Even if you are meticulous about keeping sand and saltwater outside, the significant humidity of the area can break down hard wood flooring or invite mold.
If your beach house is a rental property, this is even more significant. Don't waste money on floors that are likely to get damaged quickly. Opt for something like luxury vinyl plank or tile that will stand the test of time.
4. Outdoor Shower
An outdoor shower is something every beach house should have. Being able to rinse off from the pool or get all the sand off before entering the house is fun and practical. You'll enjoy the refreshing outdoor shower experience, as well as how much housework it takes away! Leaving sand outside is also better for the long term quality of your showers.
To add an affordable outdoor shower to your beach house, check out this article on some great DIY ideas.
5. Shatterproof Dishes
You will likely want to dine alfresco living in Panama City Beach, to maximize on the gorgeous location you've chose. We think every beach house should have shatterproof dishes that work for both indoor and outdoor and outdoor use.
6. Fade, Spill, & Stain Resistant Slipcovers
Panama City Beach gets about 240 sunny days per year. This means any furniture you have outside or near a window is likely to fade if you haven't planned ahead.
That's why we think fade resistant upholstery or slipcovers are something every beach house should have!
While you're at it, look for spill and stain resistant fabrics. This will give you peace of mind whether you are renting out the property or using it for your own primary residence or vacation home.
7. Bright Interior Design
Choosing white or bright wall color will add to the bright and airy atmosphere of the beach house, drawing the eye back to the windows and the beach views. Avoid dramatic, dark colors and opt for lots of natural textures, light colors, and airy materials like linen or wicker.
When you are ready to begin looking for a beach house in Panama City Beach, we are ready to help with years of experience and knowledge to help you find just what you are looking for. Contact us today to get started!