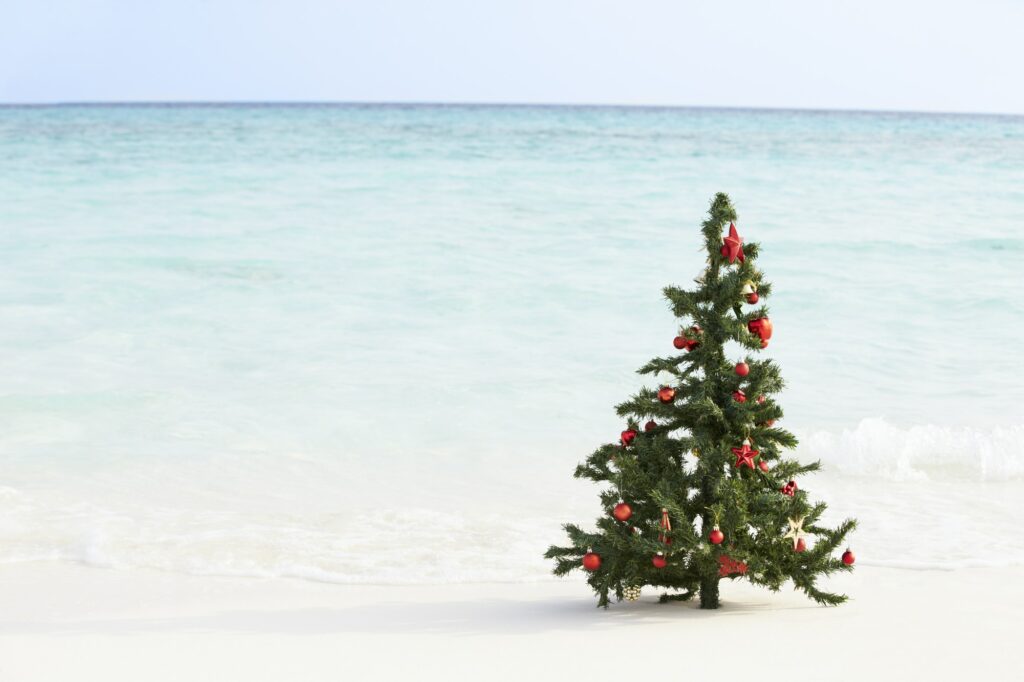 It may be known for its Summer and Spring Break appeal, but there are plenty of fun Christmas events in Panama City Beach, too. Check out our list of 10 things to do this holiday season in Panama City Beach!
1. Patriotic Christmas Concert
The 8th annual Patriotic Christmas Concert is scheduled for December 4th at Todd Herendeen Theatre. This community tradition honors veterans with meaningful music, a festive and patriotic Christmas event in Panama City Beach.
2. Breakfast with Santa
Stop by the Sheraton Spa and Golf Resort on December 5th between 9:30 and 11:30 to enjoy breakfast with Santa! This special Christmas event in Panama City Beach will make for awesome photo ops with the kids and a memorable time for the whole family. Tickets include breakfast, a Santa photo, and a drink ticket for parents over 21. To book a reservation, call (800)236-6033
3. Santa's Arrival
On Friday morning at 11:00, Santa will make an appearance at Pier Park. He will be back every evening until Christmas Eve for photos and a visit! Tickets are available to make sure you have a reservation for this popular Christmas event in Panama City Beach.
4. Christmas with the Legends
On December 11th and 18th, tickets are available to enjoy a night of Christmas music by a world class band at the Todd Herendeen Theatre. Classic, traditional Christmas tunes and fun standards from The Legends show will be played, sure to make for an entertaining holiday night out.
5. Christmas Tree Lighting
For a classic Christmas event in Panama City Beach, go to the center of town at 6:00 pm on December 5th for the annual Christmas Tree Lighting! This event is perfect for all ages and kicks off the Christmas season in the most quintessential way! If you'd like to participate in helping all local families have a special holiday, bring an unwrapped toy donation, as well.
6. Scottish Christmas Tea
Enjoy a traditional Scottish Christmas Tea on December 12th, with a festive musical theatre performance set to Scottish music. This event is a fundraiser for the Celtic Heritage Alliance, and puts a unique and elegant spin on Christmas events in Panama City Beach.
7. Bethlehem Christmas Village
For a meaningful, family friendly Christmas event in Panama City Beach, stop by Bethlehem Christmas Village. There is an interactive, live nativity scene held between 5:30 and 8:30 each evening between December 14th and 17th at Captain Anderson's Marina. Kids have to find lodging, just like Mary and Joseph did, and are allowed to touch and experience the whole nativity scene first hand!
8. Sinfonia Gulf Coast Holiday POPS
Just outside of Panama City Beach, in Destin, will be an amazing Christmas concert scheduled for the evening of December 10th. Tickets are available to enjoy the music of Sinfonia, featuring Nicholas Rodriguez. The show is suitable for all ages and is sure to be a festive night out. Tickets go fast, so don't wait!
9. Christmas at the Barn
This 21 and up event takes place on December 3rd from 6:00-9:00. There will be drinks and a swing band set in a barn that's been transformed into a winter wonderland. Enjoy a night out at The Barn at Wicked Wheel to meet other fun members of the community or dance the night away!
10. Polar Express Parents Night Out
For a crafty Christmas event in Panama City Beach, drop off the kids and meet up with other parents who enjoy a good DIY. Tickets include the supplies and instructions you need to make a variety of holiday items, like a 12×12 North Pole painting or a milk and cookies plate for Santa. Bring your cozy clothes and a blanket, because at the end of the crafting session there will be refreshments and a Christmas movie. This event is open to couples or singles, but no kids allowed.
Panama City Beach is a great place to live year round, not just during the warmest months. If you're ready to invest in a home or vacation rental, contact us today!